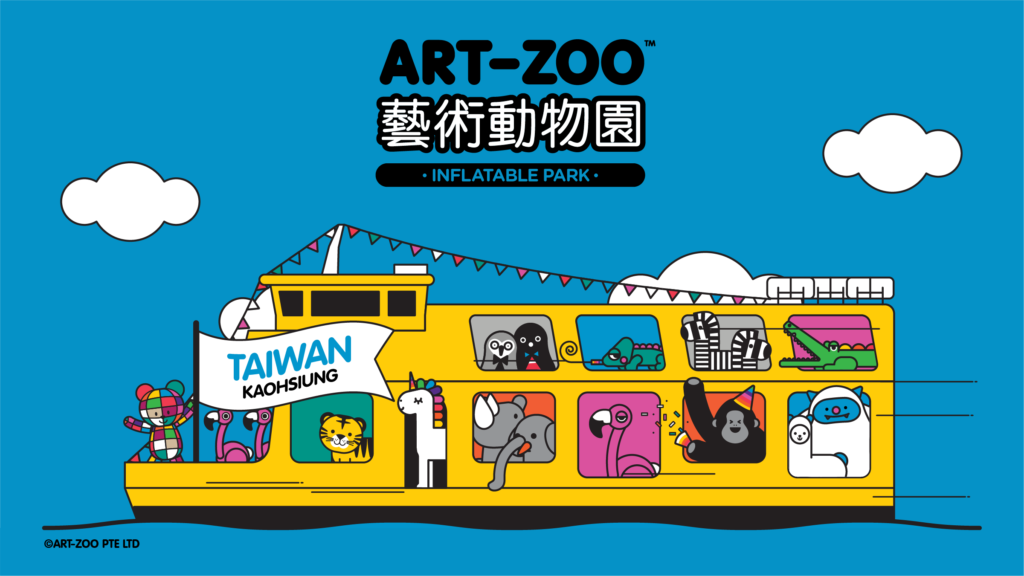 16 DECEMBER 2018 – 17 MARCH 2019
KAOHSIUNG PORT WHARF NO. 7
Docking right at Wharf No. 7, Port of Kaohsiung from 16 December 2018 to 17 March 2019! Kaohsiung received us with much warmth when we held our first ever overseas Art-Zoo Inflatable Park in Taiwan last year, and this time round we are back to celebrate the re-opening of the Kaohsiung Port area with various activities!
What's even more exciting is that we are also launching Art-Zoo Playhouse, an indoor concept that seeks to spark creativity, with an art installation, DIY activities, workshops and merchandise store all inside one space. Don't miss out!
「Art-Zoo藝術動物園」氣墊樂園不只是一座氣墊遊樂園,更是一個藝術探索世界!由新加坡藝術團隊製作全新打造的15座巨型氣墊,以奇幻彩虹為主題,園區內多了許多色彩繽紛的夢幻生物—你可以享受從19公尺高的七彩獨角獸上滑下、和大熊先生一起在充滿150,000顆球的泡泡池裡玩耍,遊走喜馬拉雅山尋找雪怪的蹤跡、拜訪住在黑森林裡的金剛家族、又或是與紅鶴小姐、犀牛、大象……等動物們一起跳躍、狂歡。在這樂園裡,大人和小孩們都可以盡情地穿梭,在歡笑聲中找回童心,一起探索驚奇的異想世界。
「Art-Zoo藝術動物園」於全台首次展出「Art-Zoo 同樂繪」室內集體創作繪圖區,結合手繪塗鴉,激發大小朋友的藝術創意,讓你沉浸在Art-Zoo的奇幻意想世界裡。藝術創作空間總共分成三個部分:彩繪區,藝術拼貼,週邊商品區。走進「Art-Zoo 同樂繪」,大小朋友可以選購圖畫紙,並將畫紙上的動、植物塗上喜歡的顏色;完成的創意作品可以展示到集體創作的藝術拼貼牆展示,亦或是帶回家作為紀念。藝術拼貼牆蒐集所有人的作品,以五彩繽紛天馬行空的創作使原本單調的空間充滿了藝術活潑的氣息。快來發揮你的創意來一起創作這個空間吧! 想帶點什麼小禮品回家嗎? 週邊商品販售區絕對有你喜歡的商品,快來把Art-Zoo帶回家!
還在等什麼呢?快跟著「Art-Zoo 藝術動物園」"走進高港、藝起探險"吧!
Magical Rainbow
Little Kong
Bubbly Bear Bath
Yellow Woods
Checkmates
Candy Canyon
Yeti's Peak
Green River
Blue Bay
Pink Lagoon
Black Forest
Orange Rocks
Red Reefs
The Beetles
Purple Meadows
10am – 6pm daily
Closed on Chinese New Year Eve
Last entry: 1 hour before closing.
Opening hours are subjected to change.
Wharf No. 7, Port of Kaohsiung
高雄港七號碼頭
Nearest MRT/LRT station: Sizihwan (exit 2)
搭乘至西子灣站 2號出口,經蓬萊路前往。